Tutorial on how to configure replication between Falconstor CDPVA
Components Used
2 x Falconstor CDP VA are used in this lab
| Hostname | IP Address | Remarks |
| --- | --- | --- |
| UAT-CDP01 | 10.10.10.210 | Production Site |
| UAT-CDP02 | 10.10.10.110 | DR Site |
Configuration of Replication of Falconstor CDP
Ensure that both UAT-CAP01 & UAT-CDP02 are added to Falconstor Management Console and right click on the SAN resource which will be replicated to DR Site. Select Replication – Enable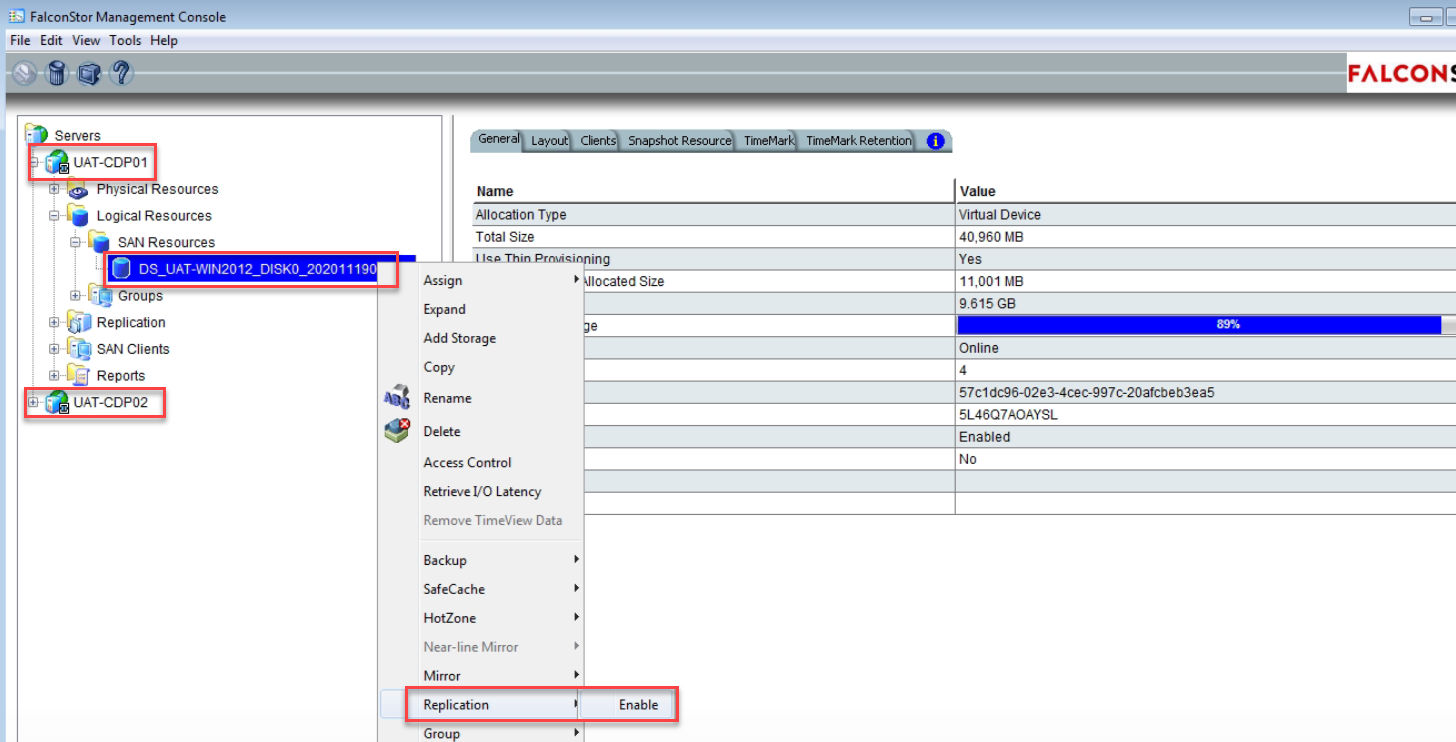 Click Next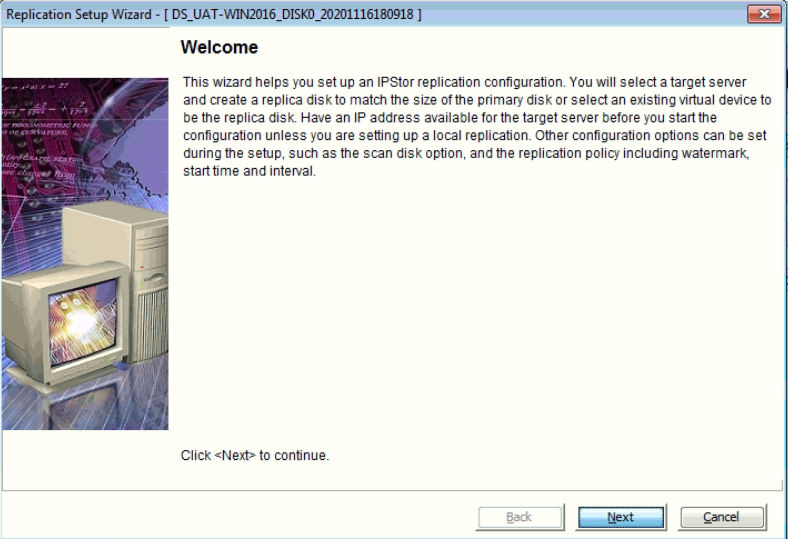 Select UAT-CDP02 located at DR Site

Enter the IP Address of UAT-CDP02 and click Next to continue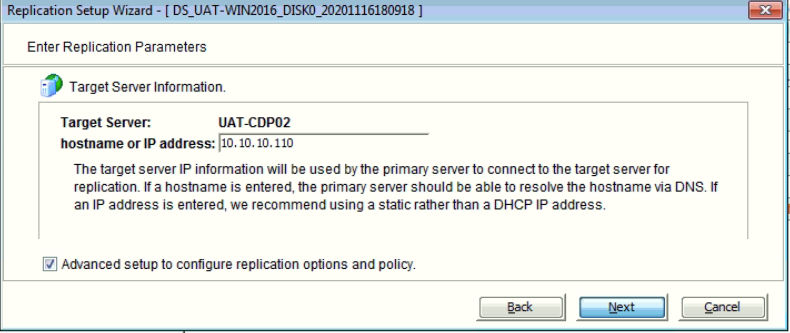 Check Use Existing TimeMark to replicate the existing TimeMark on the primary server instead of creating a new one (the default).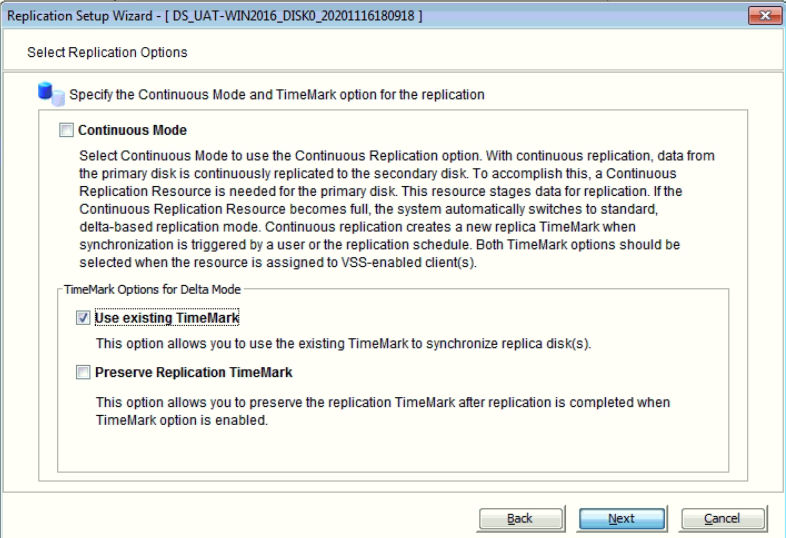 Replication Schedule – Replication is triggered hourly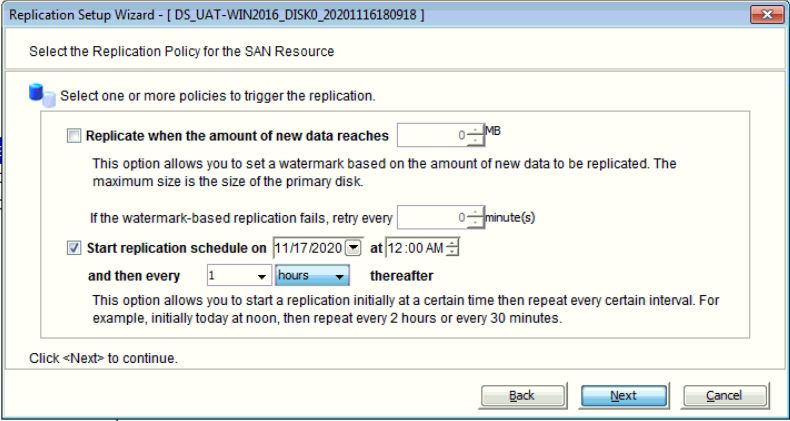 Enable Compress Data & MicroScan
Compress Data – Enhances throughput during replication by compressing the data stream. This option leverages machines with multi-processors by using more than one thread for processing data compression/decompression during replication. Compressing data reduces the size of the transmission, thereby maximizing network bandwidth. In other words, the more data is compressed, the less data there is to replicate
MicroScan – Analyzes each replication block on-the-fly during replication and transmits only the changed sections of the block, which is beneficial if the network transport speed is slow and the client makes small random updates to the primary device.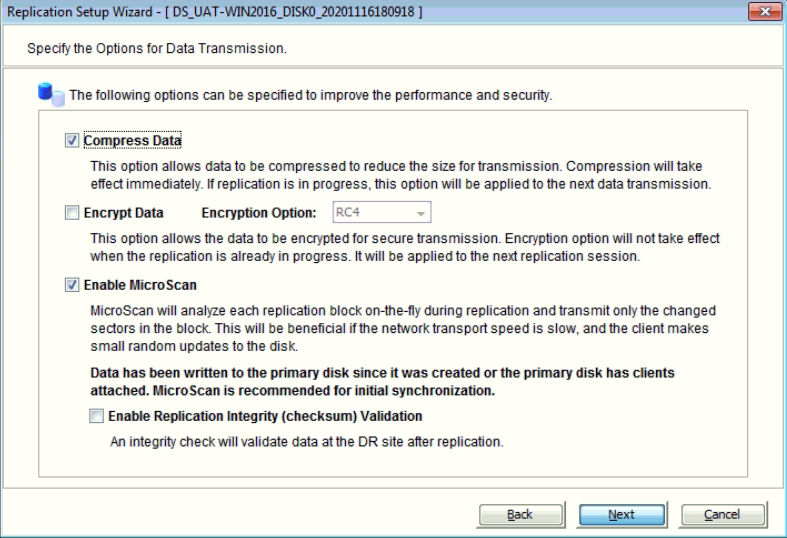 Create a New Replica Disk in UAT-CDP02 at DR Site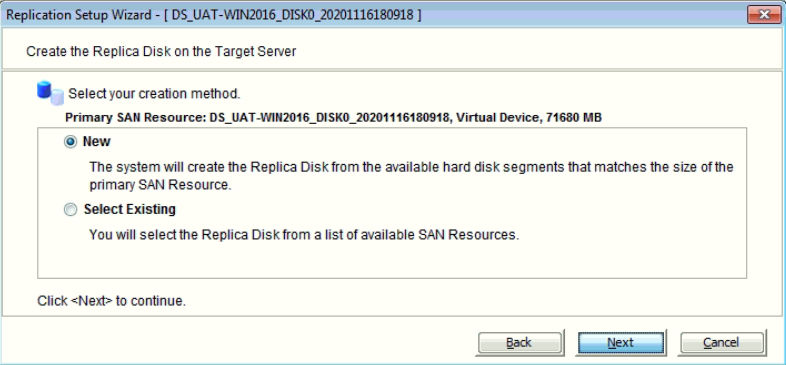 Enabled Use Thin Provisioning to minimize the disk space required in UAT-CDP02

Select the storage pool provisioned in UAT-CDP02 at DR Site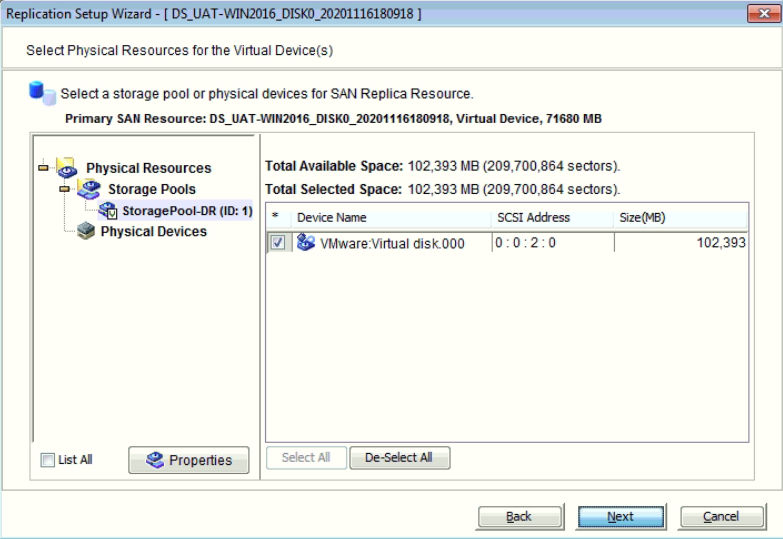 Accept the default Replicate Disk Name or Modify it for ease of identification

Review the final configuration and click Finish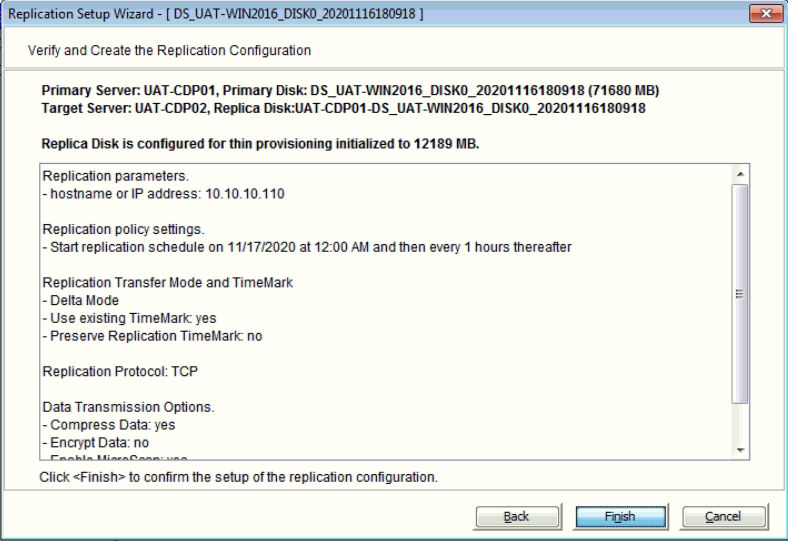 Snapshot Resource
A snapshot resource is an area of a virtual device (or an entire virtual device) that has been configured to store data images referred to as snapshots. The snapshot technology in this product makes it possible to capture periodic images of data on a SAN resource as of specific points in time. Subsequent snapshots capture changes that occurred since the previous snapshot
Click OK to configure Snapshot Resource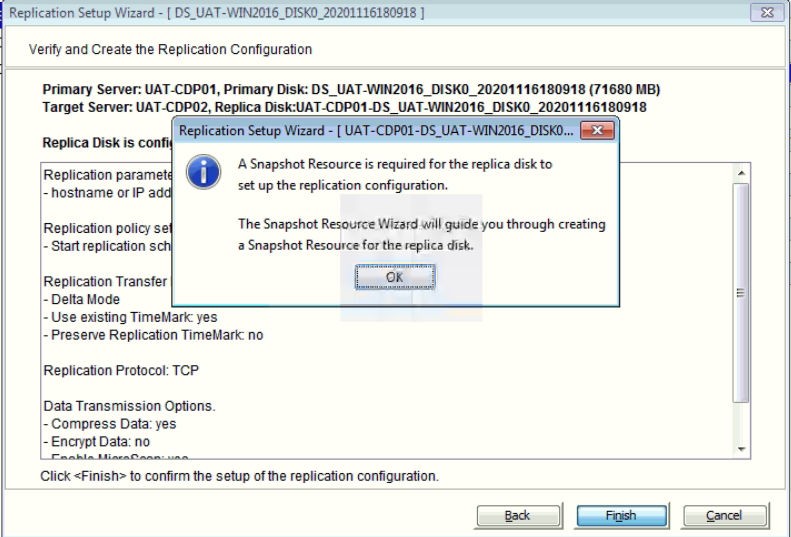 Click Next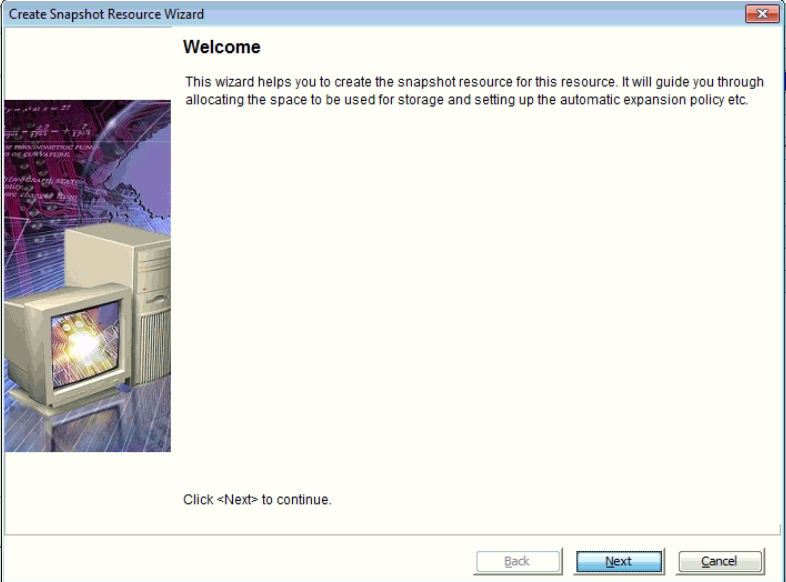 Select a Storage Pool to keep all Snapshot captured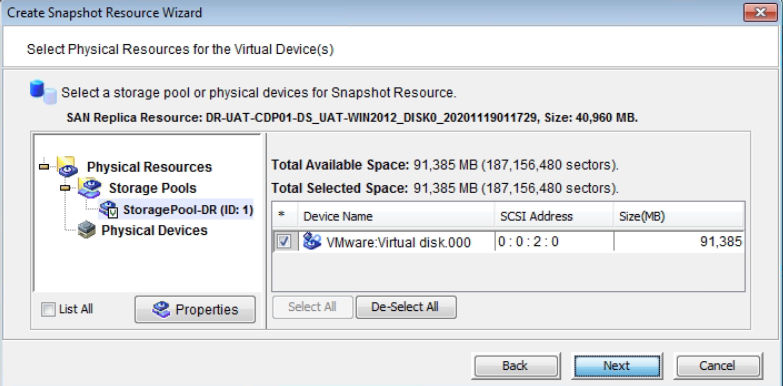 Specify the initial storage space for snapshot resources – 10,240MB (10GB)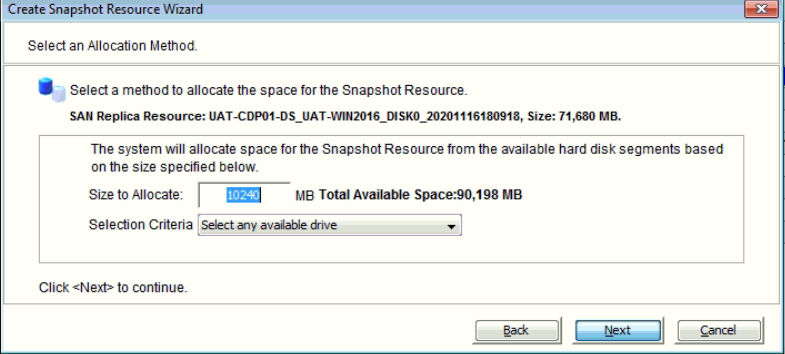 Click Next to continue

Click Next to accept the default settings to automatically allocate 20% more space to snapshot resources when space usage reaches the threshold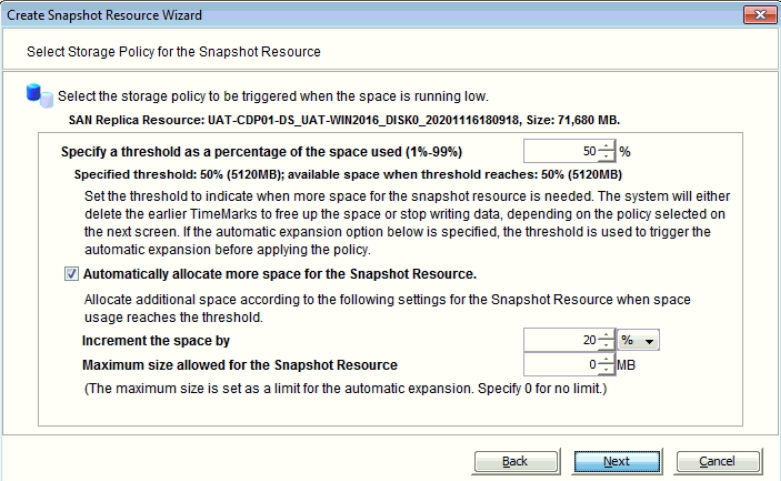 ​Select Preserve all TimeMarks or Preserve Recent TimeMarks with Enabled MicroScan checked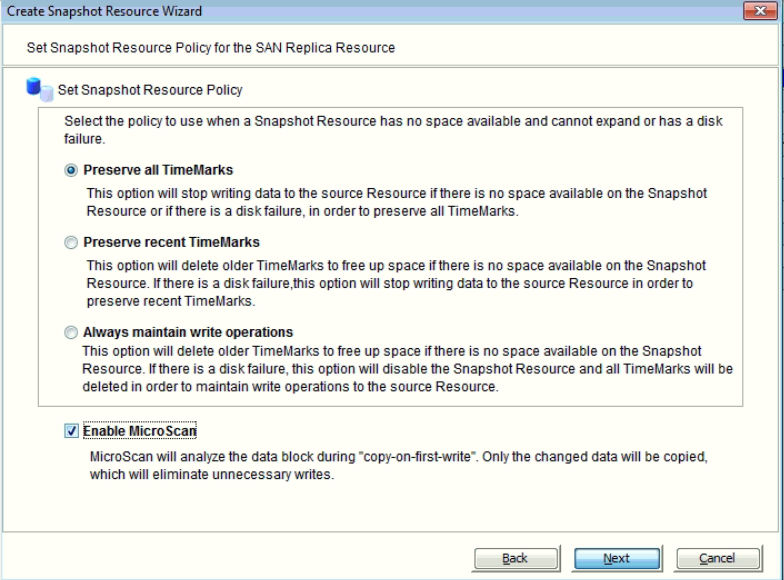 Review the final settings and click Finish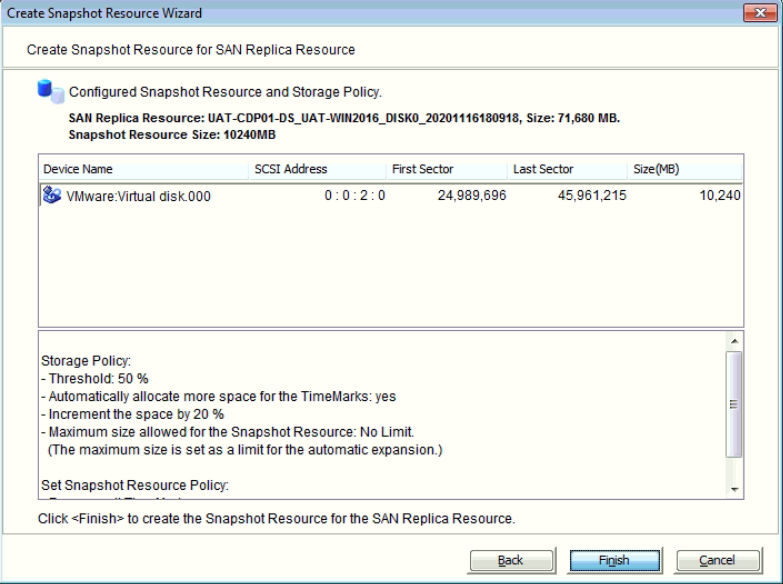 Replication is configured successfully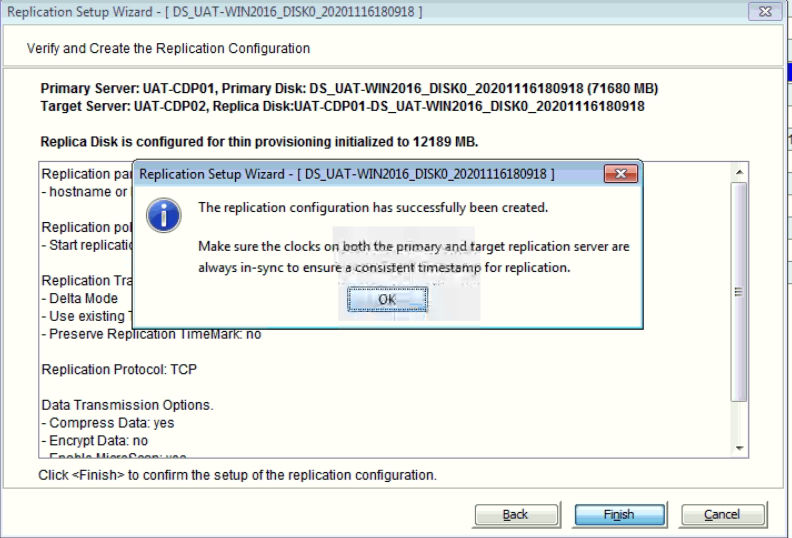 Initial Replication
Right click on the SAN Resource and Select Replication – Scan, follow by Synchronize to perform the initial sync if the initial sync is not started automatically
Scan – performs a read comparison of the primary and replica devices to assess the current amount of delta between them
Synchronize – Perform unscheduled replication
Monitor the progress of 1st Replication as it will take some time to finish depend on the size of the protected storage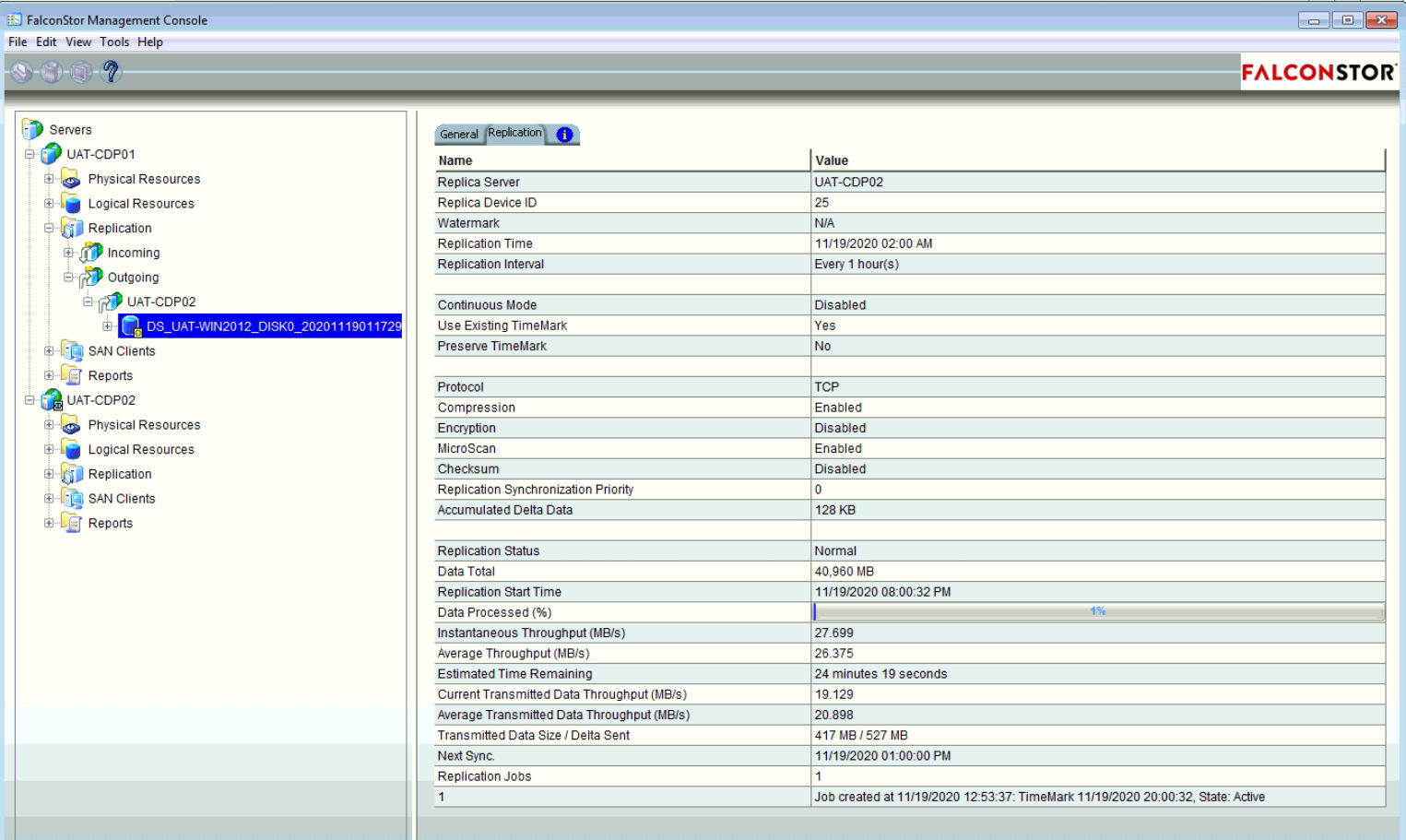 Enable TimeMark in Replica Disk
Right click on the Replica Disk in UAT-CDP02 – Replication – Incoming – UAT-CDP02 – SAN Resource – TimeMark / CDP – Enabled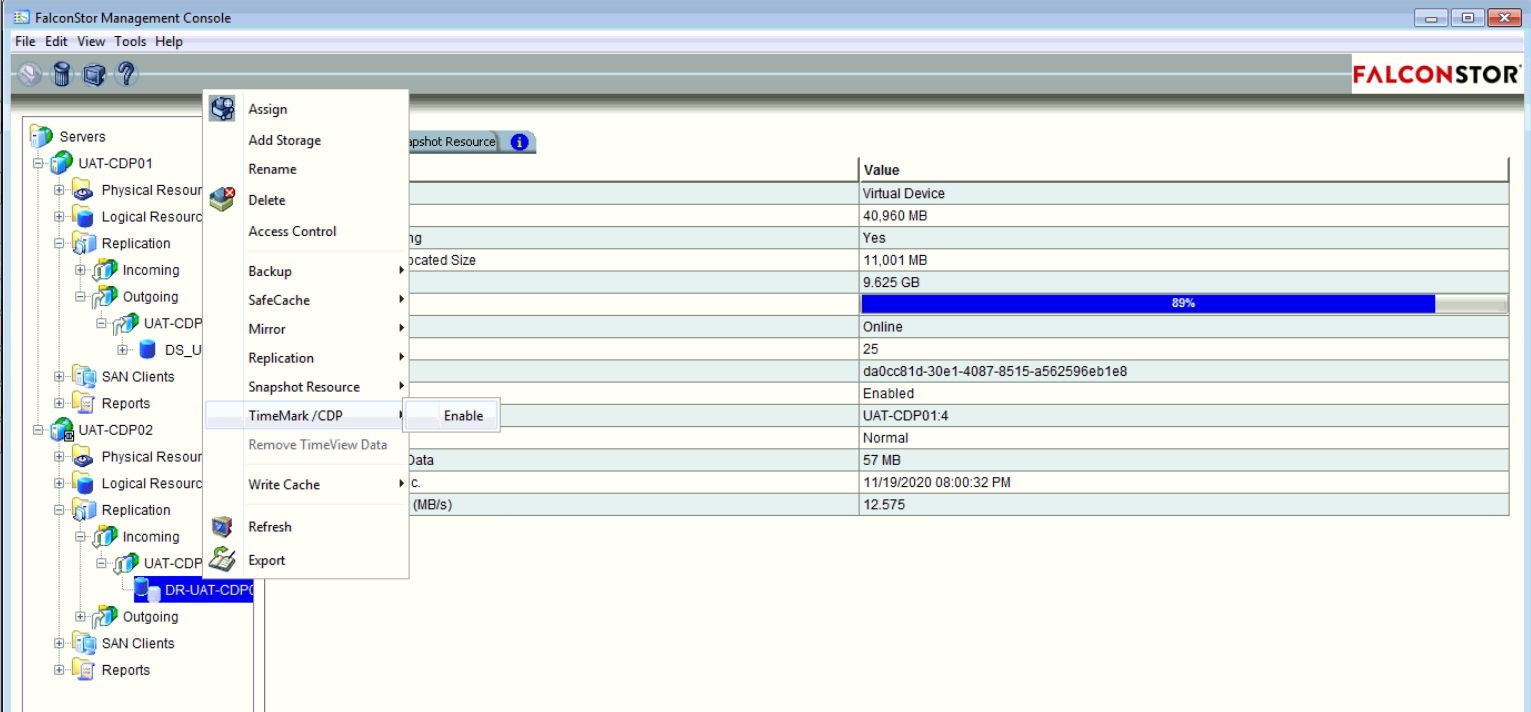 Click Next to accept all default settings but Select Keep 8 most recent TimeMarks to minimize the storage usage in Falconstor CDP in DR